When:
December 20, 2018 @ 6:00 pm – 10:00 pm
2018-12-20T18:00:00-08:00
2018-12-20T22:00:00-08:00
Where:
Kilowatt Brewing Ocean Beach
1875 Cable Street
San Diego
CA 92107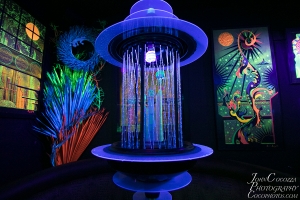 Join Kilowatt Brewing on Thursday, December 20th at our Ocean Beach Tasting Room for a special one-of-a-kind exhibit of the cosmic blacklight paintings of the Spaceman of Ocean Beach.
There will be rare, original Spaceman art on display only during the reception. We also invite you to bring your own Spaceman of OB art to display for the evening in a secure area. If you have your own Spaceman of OB art you would like to display, please contact us at beer@kilowatt.beer to coordinate the logistics.
Clint Cary, aka The Spaceman of Ocean Beach, returns for a 30 year retrospective of his blacklight cosmic art featuring images from the Planet Rillispore. The Spaceman, as he was known by the locals, claimed to have been contacted by beings called Rillisporians and taken to their planet in 1957 and again in 1958. The experience changed his life and his art. The Spaceman dedicated the rest of his life to painting fluorescent images of the planet and retelling his stories of traveling to another world. For the lucky ones that knew the Spaceman, and had the right "vibration" he would give a space number guaranteeing a spot on the Rillisporian spaceship when they returned to save mankind from its self-destructive ways. The Spaceman is considered one of Ocean Beaches most celebrated and notorious characters. April 15, 2018, marks the fifty-fifth anniversary of the Spaceman's arrival to OB.
Clint Cary (1909-1993) From Alta Dena, CA. Moved to Ocean Beach April 15, 1963.
Don't miss this unique opportunity to experience the original
blacklight paintings of Clint Cary and a look at Planet Rillispore.
https://kilowatt.beer/wp-content/uploads/2018/12/spaceman-ocean-beach-kilowatt-20180419-007web-1200x800logo.jpg
800
1200
Rachel Fischer
https://kilowatt.beer/wp-content/uploads/2014/07/kilowatt-logo-01.jpg
Rachel Fischer
2018-12-02 17:27:45
2018-12-02 17:27:45
Spaceman of Ocean Beach Art Reception